SPEED FANS IN COMPARTMENT BOXES 14D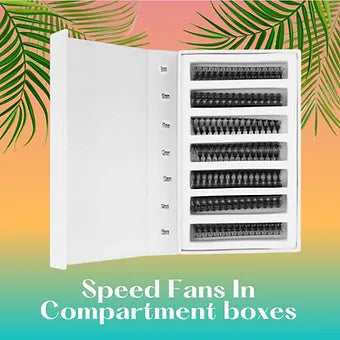 Fab lashes light and fluffy and wrap well. Thank you! Will buy again and loved all my freebies and samplesvery kind
Fantastic fans, love the thin pointy bases. All very consistent also which is brilliant as have found this an issue with previous lash suppliers. Love that these are on the strip makes sets so much quicker x
Absolutely love these lashes will buy again! Thanks Kelly
Love them clients always compliment them xx
8-13mm, 9-15mm
D curl
0.3
Hand made pro made fans!
TIME TO LASH FASTER THAN YOU HAVE EVER LASHED BEFORE!
WELCOME TO ULTRA-SPEED, THE LATEST PROMADE RANGE
If you're wanting to get through more clients each day, then Ultra-Speed Promade fans are about to become your best friend. It's your favourite Promade volume fans in shorter strips ready to go so you can quickly peel and place, and get straight back to lashing! 
Each one of our Pro-made volume fans are 100% hand crafted just like you'd create with individual lash fans.