Silicone Pad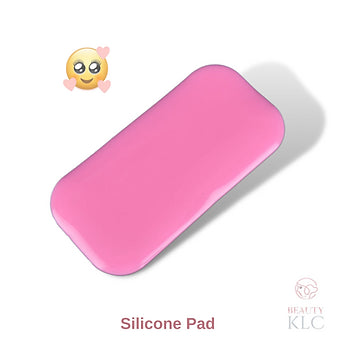 Reusable: Strong absorbing force keeps eyelashes from falling off, and antistatic property makes eyelashes stand up a little and easy to pick up eyelashes. Wash with soap and water after use
Dimensions: 4.3 inches x 2.2 inches / 11 cm x 5.5 cm. Made of silicone, safe and non-toxic, soft and flexible on both sides. Can be placed on the back of your hand or on the client's shoulder
Designed for eyelash extensions: Silicone pads for eyelash extensions make your hands more convenient.
Recommended for professionals or beginners
Easy to use: Before use, remove the protective plastic covers on both sides. Place it over the forehead / hand and the lashes will remain on the silicone even if the pad is moved
This silicone pad can be used either as a lash tile so that your lash strips can be easily removed once used, or as an organiser for pro-made fans. This pad is reusable and can be washed. Once dried, it will be sticky again.
Replace when no longer sticky.