Vegan After Care Set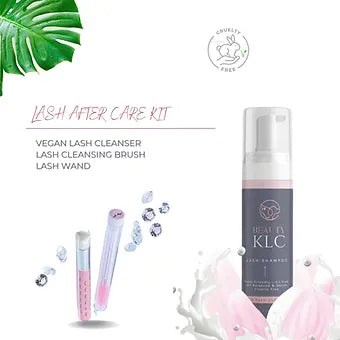 1x lash wand
1x lash cleansing brush
1x 50 ml lash cleanser
Beauty KLC
Lash Brow & Facial Cleanser all in one!
The best on the market!
🌱
It is VEGAN,
OIL FREE,
FRAGRANCE FREE, GLYCERINE FREE, GLYCEROL FREE, ETHANOL FREE, PARABENS FREE AND HAS NO ARTIFICIAL COLOURS!
Suitable for the most sensitive skin including eczema with its Ph level of 7
🌱
A pH number refers to how acid or alkaline a
liquid is, measured from 0-14.
Cleanser has a pH level of 7 which is neutral or
balanced. Using a pH balanced product on your
face is important to breakdown oils and dirt but still protects the acidic layer of your skin that assists in retaining moisture and keeping out bacteria.
50ml
Lasts up to 6 months clients have said!
Beauty KLC lash cleanser is ph balanced to ensure the removal of all oils, makeup, skin cells, etc from the face and lash line! Remember the cleaner the lash, the better the retention and application process!